The inhabitants of Koopa Island are mostly peaceful creatures, but are eager to defend their homeland. They have sworn unquestioned loyalty to their king. They appear to follow him not out of fear, but because they think he's "awesome". This is not a complete list.
Koopa Troopa
The standard inhabitants of Koopa Island come in two varieties. Green shelled and red shelled. These peaceful creatures are mostly non combatants, content to live peacefully. If faced with danger, they tend to hide in their shells and wait for the danger to pass. Though some have been taught to use their shells as weapons in times of danger, and will defend themselves if attacked. Red shelled variants tend to be more aggressive when attacked than the green ones.
Paratroopa
This variant of the Koopa Troopa has grown wings. Their shells can come in either green or red variants. The green shelled ones enjoy lives of casually flying around the skies of the Koopa Kingdom. Some have even taken jobs as mailmen. The green shelled ones will fly away if threatened, while the red ones may stay and fight.
Yellow Koopa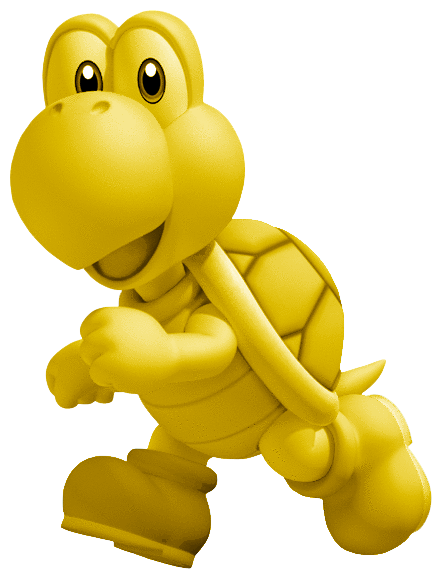 Yellow Koopa Troopas are rare among the Koopa community. There appear to be no discernible difference in power between them and normal Koopa Troopas, but there's something in them that makes others view them as exceptional mating partners. They also tend to be real smooth talkers, able to talk themselves out of trouble and some even have strong business sense.
Shady Koopa
Exceedingly rare, Shady Koopas are said to harness an affinity for the wind. Sporting a blue shell, sun shades, and a darker skin tone, these Koopas are known for their ferocity in battle. While most Koopas are rendered helpless when flipped upside down, these Shady Koopas can harness the power of the wind to spin themselves and fling themselves at high speeds towards enemies. In some ways, they are even deadlier when flipped over. Since peacetime, many of these Koopas have made their homes underground.
Hammer Bro
Hammer Bros are the standard foot soldier of Bowser's Army. They have bigger shells than standard Koopas and come equipped with helmets and hammers. They seem to hide a lot of hammers in their shell and chuck them at enemies. If they're down to one hammer though, they might charge at enemies with it.
Goomba
Goombas are a fungus-based species capable of speech. Their defining features are their eyebrows which typically form a scowl, upward pointing fangs, and no arms. Although Goombas are physically weak, they are very adaptable. Regular Goombas have been encountered in almost all types of terrain, while many variants have emerged well suited for certain environments. Most Goombas live peacefully, but many have decided to join the military despite their numerous weaknesses. Bowser has graciously granted most Goomba members of the Koopa Troop spiked helmets to help counter an easily exploitable flaw in their biology, which is that they are easily stompable.
Clubba
Clubbas are large, burly, but lazy creatures who work for Bowser as soldiers. A Clubba's trademarks is its spiked mace and tendency to sleep a lot. Most Clubbas wake up when they sense movement, and they can put a lot of power behind their mace, so underestimating them would be a big mistake. They are especially fearsome when in groups. The Clubbas in Bowser's Army appear to be the remnants of another tribe that was conquered by the Koopa Clan decades ago, and now they serve Bowser faithfully...when awake to do so anyway.
Spike
A subspecies of Clubba, these soldiers attack with their unique natural ability of regurgitating spiked balls. They can make a seemingly infinite amount of them, and hurl them at enemies with a decent amount of power behind them.
Lakitu
Lakitus are the standard air support units for Bowser's army. They have been given magic clouds to ride on and they fly above the battlefield, chucking hammers, bombs, and spiny eggs. Some are designated healers, and will toss healing items at their allies.
Spiny
Spinys appear to be tamed attack animals. They hatch from the spiky eggs thrown by Lakitu, and attack under their commands. Newborns tend to be the size of small turtles, but can grow to the size of full Koopas standing on all fours.
Piranha Plant
Piranha plants are carnivorous plant monsters raised by the Koopas. The majority of these plants appear capable of speech, and seem to be loyal to their masters as long as they are properly fed and cared for. Some are domesticated and kept as potted plants, while others are planted in the fields and trained to attack intruders, while others still are wild and hold no loyalties whatsoever.
Chain Chomp
Chain Chomps are monstrous creatures with dog-like qualities native to the island. They come in all sorts of sizes and colors and are typically used as guard dogs. They are extremely aggressive toward intruders, but are loyal to their masters. They have big circular eyes, large gaping mouths, and razor-sharp teeth. Most also have a restraining tail-like chain, which are commonly tied to some sort of post to restrict their movement. They communicate through dog-like barks.
Fire Bro
These are Koopas that specialize in fire magic. They stand back and chuck balls of fire at enemies. They are somewhat rarer than Hammer Bros. The number of fire balls and intensity of the flames depend on the skill of the individual bro.
Ice Bro
Ice Bros are the rare counterpart to Fire Bros. As one would expect, they specialize in ice magic, chucking ice balls at enemies from afar. The number of ice balls and intensity of the cold depend on the skill of the individual bro.
Boomerang Bro
These Koopas throw sharpened boomerangs at their foes. Most carry only one standard issue boomerang, leaving them open to attack once thrown. However, some veterans have mastered the use of two at a time.
Shy Guy
Shy Guys are the spies of the Koopa Kingdom. Famous for their masks and robes, these Koopas never reveal their identity and act as saboteurs, information gatherers, and explosive experts.
Snifit
Snifits are considered a subspecies of Shy Guy. Their masks have been fitted with a nozzle. Through their protrusion, they can fire projectiles, the most common being bullets. Some Snifits have been fitted with propellers on their heads, enabling them to fly. Flying Snifits in particular are fairly accurate shots, and are often regarded as the snipers of Bowser's army.
Boo
These spherical ghosts can be found in small numbers all over Koopa Island. They typically haunt the area where they died, playing pranks on all who approach their resting place. There are some areas however where a great many of them congregate. Dubbed Boo Houses by common citizens, these areas are said to have a high amount of paranormal activity going on. Surprisingly enough, some Boos appear to be loyal to Bowser, even in death, and patrol the halls of various fortresses around the island. Most Boos however are loyal to King Boo and act on his orders. Some are ordered to serve Bowser directly, others are simply free to do as they please. A boo's individual power depends on their age and how powerful they were before death.
Red Boo
Red Boos, often called Pink Boos due to their coloration, are very similar to their white brethren. The most notable difference is their coloration, though they do have some subtle differences. For one, they seem willing to latch onto a mortal master and do dirty work for them such as stealing. Some speculate they do this in order to satisfy their own itch for causing mischief among the mortal population. Despite this, they are loyal to King Boo first and foremost. Any mortal "master" comes second.
Bomb Boo
A Bomb Boo is an explosive, black-colored variety of Boo. They are somewhat rare and don't seem natural. In truth, they are created by King Boo from regular Boos. As ghosts cannot die again, King Boo sees no problem creating what are basically suicide bombers to attack bothersome individuals, such as intruders in his mansion or hated enemies of Bowser. On rare occasions, these creatures can be summoned by someone recognized by King Boo himself as a friend to all Boos.
Boolossus
A Boolossus is an enormous Boo composed of 15 regular Boos. In a pinch, any 15 Boos can combine together to form one. They aren't very common, but they can be sighted in situations where a large number of Boos are threatened. They can also be seen protecting King Boo when needed. It's very rare, but they can also appear to protect the living if the Boos happen to like them enough.
Dry Bones
These skeletal Koopas are no longer official members of The Koopa Troop since their death, but they somehow still hold loyalty to their king, even in death. Skeletal remains out on the field from years ago may rise if a disturbance is sensed, and they will fight for their homeland. These are also sometimes summoned by Kamek. These skeletal soldiers are very weak. Usually one hit from anything is enough to knock them down. However, they may rise back up again if one isn't watching. Allowing a great number to swarm you also isn't a very good idea. Burning them is the only way to kill them for good.
Dead Duo
A Dead Duo is the result of friendship between two lost souls. The Dry Bones rides on top of the Boo, increasing the movement speed of the Dry Bones. Some Dry Bones using this tactic may throw bones at enemies during flight. The Boo may also render the Dry Bones as well as itself invisible. Partnerships such as these are fairly uncommon, but a Dead Duo can be an annoying enemy to deal with.
Whomp
These stone golems are even older than the Koopa Kingdom and were discovered by a renowned Koopa Archaeologist not too long ago. Now active once more and with their previous masters long gone, they serve their new masters without question. Most commonly as gatekeepers, as their large size and strong material are a perfect fit for the job. They aren't very smart however, which can be taken advantage of.
Bob-omb
Bob-ombs are living, moving mechanical bombs with eyes, feet, and a wind-up key in the back. They are traditionally blue or black, though some variations can be seen such as red, green, or even pink bob-ombs. Males tend to have darker shades of color while females tend to have lighter shades of color. They are typically thrown by other soldiers or shot out of cannons to cover great distances, but they are more than capable of walking to their target. When they've chosen a target, they relentlessly pursue that target until either the bob-omb or the target lies dead. Contrary to popular belief, a bob-omb's life doesn't actually end after detonation. The explosion sends the bob-omb upwards and they fall somewhere else, usually unconscious. Veteran bob-ombs however are able to get right back up after the initial detonation, ready to continue fighting. These soldiers are some of Bowser's most dedicated soldiers, though they are actually led by King Bob-omb, one of Bowser's loyal generals.
Bullet Bill
These over-sized bullets are shot out of Bill Blasters as an alternative to the standard cannonballs used everywhere else. They are semi-sentient and will lock onto a target once it has chosen one. They explode on impact and like the Bob-ombs, seem eager to do so. When shot out of their blasters, some even seem to spout patriotic propaganda while pursuing their targets.
Koopatrol
Koopatrols are elite soldiers of the Koopa Troop. They are among the personal guard of the Koopa King himself, and are only called on the field for important battles during times of war. Since peacetime, they mostly guard the capital city and Bowser's Castle. They appear in physique similar to Koopa Troopas, but they wear intimidating spiky armor, including spiked helmets. These warriors are very high ranking members of Bowser's Army, and most soldiers dream of becoming Koopatrols.