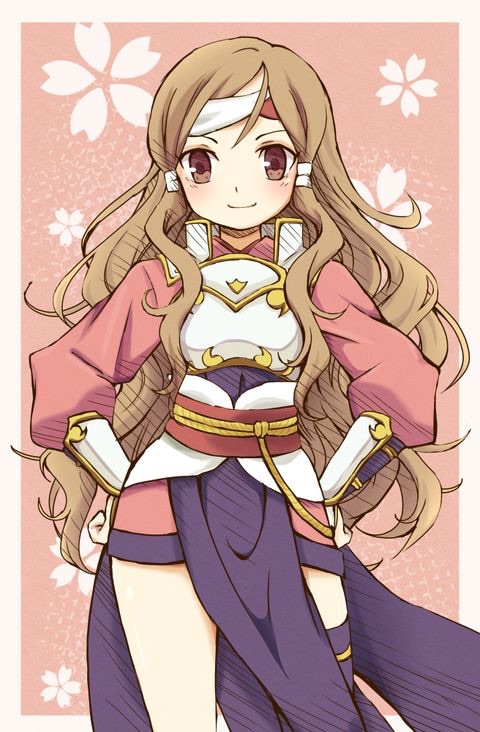 Spoiler:
Name:
Kazahana (often shortened to just "Hana") Kurashiki
Birthday:
March 28
Age:
39
Class:
Samurai
–HISTORY–
Kazahana was born in a relatively isolated home to Jipangese immigrants, a retired samurai and a nature-loving shrine maiden. Of course, Hana took after both; she aspired to become a samurai as cool as her dad was, and she inherited her mother's love of nature, animals and flowers in particular.
When she was old enough, she started taking to traveling a bit, training long and hard every chance she got. Along her travels she saw many sights and made many friends, including a younger girl whom admired her despite being a simple shrine maiden (she took interest in her for having the same occupation as her mother) and another young lady with an appetite even bigger than her biceps, whom she began training frequently with. Eventually, however, she wandered into the den of a pack of werewolves. Thankfully for her, these ones were relatively friendly, if not a little wary of her.
It could be a miracle, then, that she befriended and eventually fell in love with the leader of the pack, Flannel. It didn't take her very long to decide to become a part of his pack (a rarity for a human, but he didn't seem to mind) and his 'mate'. Together, they had a child, a beautiful baby girl they named Velouria. Hana was taken by her the moment she laid eyes on her child, and raised her with as much love as she could possibly show. She doted on her endlessly, brushing her fur, helping her clean, and letting her sleep in her arms for hours on end, among other things. Basically any time she wasn't training and/or with Flannel, she spent with her daughter. This had the side-effect of making her daughter very clingy and a little socially awkward, but Hana didn't mind the former much, and Velouria didn't mind the latter much.
After 19 years of a happy, and very strange, family life, watching her daughter grow into a fine young woman, and fall in love with her best friend, she gave her her blessing to start traveling on her own (after checking 10 times over to make sure she would be ok without her) with her lover. Knowing Velouria would feel lonely, Hana cut a lock of her hair with her sword and gave it to her, so she could at least keep her scent with her. Although she worries frequently as any doting mother would, she's confident her daughter will be fine. And whenever she wants to come home, she'll be there with open arms.
–PERSONALITY–
Hana's thought process seems to default to one of 3 things: Becoming a samurai, nature, or her family. When she's not engrossed entirely with one, she's probably focused on another. Despite her diligence and kind nature, she has a bit of a temper, and can sometimes be a little overly competitive with others. She does not seem to be aware of just how sharp her skills are at this point, constantly focusing on trying to improve herself. She is very open about nearly everything, and often has little self-restraint as a result. Despite her tomboyishness, she is quite fond of 'girly' or cute things. She sort of enjoys the feeling of being depended on. Adores cherry blossoms, even if she doesn't see them that often.